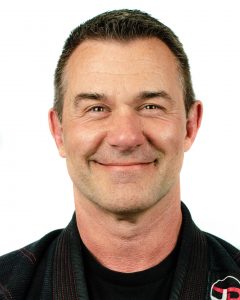 DIRECTOR, HEAD COACH & JIU-JITSU COACH
Coach JD runs the BJJ, Submission Grappling and oversees the MMA program at the academy so that nothing but the highest standards are maintained. He has been involved in the fighting arts for over 30 years from his beginnings in Boxing and Kickboxing and then onto discovering the grappling arts. He has gone on to be not only a high level competitor but also a World-renowned Coach.
John Donehue has coached at every level from first time beginners to Black Belt competitors and UFC Champions, such as Randy Couture, Dan Henderson and Frank Trigg. He also coaches professional athletes both here and around the world in Rugby League, Rugby Union and AFL.
Classes at the academy are six days a week and feature a strength and endurance building warm-up, followed by demonstration and practice of techniques after which students engage in live wrestling with other students of their own level.
Come and take one of the introductory classes with one of the senior students or instructors and learn some more about this incredible martial art. We are confident that Jiu Jitsu will become one of the most enjoyable aspects of your life. It will give you confidence, self-discipline and a level of body awareness that few people will ever experience.
"Coaching is one of the most rewarding things that I could imagine doing. I have had the privilege of helping people from all walks of life; from hobbyists to professional fighters, make dramatic changes in both their bodies and their minds. It is a long, sometimes frustrating, journey and not easy at times however if you can deal with all the challenges that this true martial art will throw at you, it will change your life for the better. It has with mine and I am extremely fortunate to have had the opportunity to help others along the way."
RANK/FIGHT RECORD
5th degree Black Belt in Brazilian Jiu-Jitsu.
Black Belt in Judo and life member of the United States Judo Association
Gold and Silver Medalist in the Moreira International Jiu-Jitsu Tournament
2-time US National Heavyweight Brazilian Jiu-Jitsu Champion
ACHIEVEMENTS
The only Australian to receive a Black Belt in Brazilian Jiu-Jitsu whilst training and living overseas in Los Angeles for 10 years.
The only Australian and one of only five Black Belts in the world under the legendary 'Judo' Gene LeBell
Trained under World and University of Iowa NCAA wrestling champion from Rico Chiapparelli
Brazilian Jiu-Jitsu Coach of Bruce Lee's No 1 student, Dan Inosanto, and of the Inosanto Academy in Los Angeles
Referee for the USA pay-per-view Mixed Martial Arts event, 'Extreme Fighting' 2, 3, and 4
Referee for the USA pay-per-view submission wrestling competition, 'The Contenders'
Australian Representative and International Judge for the Abu Dhabi Combat Club World Submission Wrestling Championships and world qualifiers
Professional Sports Affiliations
Tackling Coach to Melbourne Storm Rugby League Team
Has also worked with
Hawthorn F.C.
Geelong F.C.
Carlton F.C.
Port Adelaide F.C
Richmond F.C
St Kilda F.C.
Fremantle F.C.
Brisbane Lions F.C.
Melbourne F.C.
North Melbourne F.C.
Essendon F.C.
Western Force (Rugby Union).
Waratahs (Rugby Union).
Internationally:
New Zealand All Blacks
Northampton Rugby Union.
Hull FC, Hull KR and Wigan Rugby League teams.
Bodyguard for General Norman Schwarzkopf throughout Australia, New Zealand and Asia. Has also been bodyguard for Nelson Mandela, Rubin 'Hurricane' Carter, Naomi Campbell, Isabella Rossellini, Harry Connick Jnr. and Kylie Minogue, amongst others.
Instructor to members of the Victorian Police OSTT unit and members of the Victorian and Federal Police.